Mark Gerald Weissinger,M.Div.,M.D.,FACOG
List All Members | General: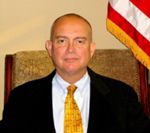 Dover Law Firm
12600 Deerfield Parkway, Suite 100-A
Alpharetta, GA 30004

770-518-1133
Dr. Weissinger has recently joined the DOVER Law Firm as our full-time Medical Consultant. He is a graduate of Vassar College, Yale Divinity School, Columbia University and the University of South Dakota School of Medicine. He completed his residency training at Vanderbilt University Medical Center in Nashville. He has practiced Obstetrics, Gynecology, Emergency and Family Medicine for 16 years. He is certified by the American Board of Obstetrics and Gynecology and is a fellow of the American College of Obstetricians and Gynecologists. He began consulting for the legal profession in 1998.
Dr. Weissinger's role at the DOVER Law Firm is to evaluate the experience of our clients from a medical viewpoint to determine if malpractice has occurred and to assist our attorneys in gathering information critical to the just conclusion of your case. He has practiced medicine in large cities and small towns and in settings ranging from university hospitals to walk-in and charity clinics and is therefore familiar of the standard of care expected from medical providers. He provides objective opinions concerning our client's medical care and is committed to our firm's goal of seeking justice and recompense where damages are sustained.