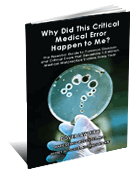 Why Did This Critical Medical Error Happen to Me?
Attention

: If You Have Suffered From a Critical Medical Error or If You Have Lost a Loved One Because of a Critical Medical Mistake, You Need to Read This FREE Book.


Understanding what caused the medical error is critical to your recovery. In order to recover damages for your injuries, you need to be able to prove that the hospital, medical facility, doctor or other medical professional failed to provide the care that a reasonable person would provide you and that the failure caused your injuries.


You do not have to discover the "why" on your own.

The experienced Atlanta medical malpractice attorneys of The Dover Law Firm will help you understand why this critical medical error happened to you. We will thoroughly investigate the case and work hard to tell you, the defendants, insurance companies and jury what happened that caused you harm.


If you can establish why the medical error happened and that it caused you physical harm or took the life of your loved one, then you may be entitled to damages for your medical expenses, lost wages, out-of-pocket expenses and pain and suffering.


Order your free copy of Why Did This Critical Medical Error Happen To Me? today.


This book has been written by the experienced Atlanta medical malpractice lawyers of The Dover Law Firm. The Dover Law Firm maintains offices in Atlanta and Alpharetta, Georgia and is committed to helping people who have been injured.

We have successfully represented many medical malpractice victims, and we want to help you understand what caused your harm.


This book has been written specifically for people involved in Georgia medical malpractice incidents.

Please, fill out the information below for your

FREE

copy of our book

. We hope that it helps you protect your rights to compensation and recover from your critical medical error.


Don't Delay. Fill Out This Form to Get Your Copy of This Important Book Today.