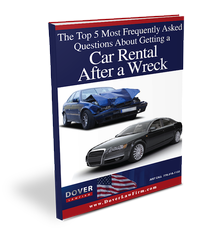 Confused About the Car Rental Process After You've Been in a Wreck? This Report Can Help.
The time period immediately following a car wreck can be confusing and stressful to say the least. One of the topics that clients of the Dover Law Firm often ask about early on in their claim is how to get a car rental. As a result, we've pulled together this brand new report -- The Top 5 Most Frequently Asked Questions About Getting a Car Rental After a Wreck -- to help accident victims understand their rights and obligations when it comes to car rentals.
To request a free download, simply fill out the form below or to the right, and we'll immediately send you a copy.