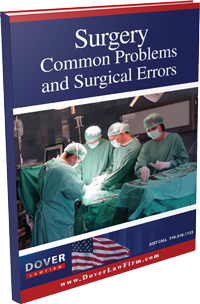 Surgery Common Problems and Surgical Errors
Surgical procedures are usually undertaken as a way of treating an injury or disease. In fact, over 20 million Americans undergo surgery with general anesthesia each year.
Sometimes, however, a surgery that what was intended to fix a medical problem ends up causing serious problems of its own.
As a result, Atlanta Medical Malpractice Attorney Jeffrey H. Dover has composed this information-packed report concerning malpractice due to surgery.
In this comprehensive guide, Dover explains common surgical problems and errors in an easy-to-understand fashion. If a surgical error is caused by negligence, the injured patient may be able to pursue legal options.
This essential patient guide is available to you for FREE. To request your copy, simply fill out the form below or to the right, and we'll send you an instant download.