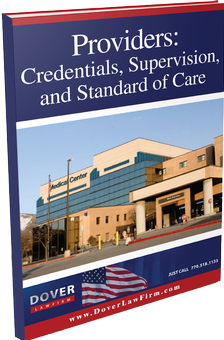 Providers: Credentials, Supervision, and Standard of Care
When patients receive care from a medical professional, they should do so with the comfort of knowing they are in the hands of competent physicians who are consistent in their work. One way of better ensuring that patients receive that high quality of care is through established standards of care that all physicians should abide by.
Often, a medical malpractice case can come down to whether or not it can be proven that the doctor in question breached established standards of care.
In this comprehensive report, Atlanta Medical Malpractice Attorney Jeffrey H. Dover takes an in-depth look at credentials, supervision and standards of care and how they impact medical malpractice cases.
To get your FREE copy, simply fill out the form on the right or below, and we'll instantly send you the download.