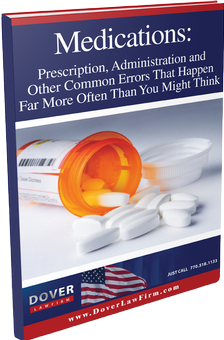 Medications: Prescription, Administration & Other Common Errors
Medications are intended to help improve (or, in some cases eliminate) certain medical conditions or ailments that people suffer from. Despite these good intentions, thousands of people die annually as a result of medication errors made by professionals ranging from doctors to pharmacy clerks.
Atlanta Medical Malpractice Attorney Jeffrey H. Dover has written this comprehensive report that covers the most important aspects of medication-related errors -- and he shows how those errors can turn into serious problems for the person taking the medication, possibly even leading to their death.
This information packed report covers the common medication errors seen today and discusses ways that these can be prevented.
To get your own FREE copy of this report, simply fill out the form to the right or below and we'll immediately send you the download.