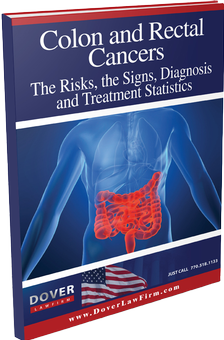 Colon & Rectal Cancers: The Risks, the Signs, Diagnosis & Treatment
As the second leading cause of death from cancer in this country, colon and rectal cancer continues to take a terrible toll.
Knowing that information can be a powerful tool, Atlanta Medical Malpractice and Cancer Attorney Jeffrey Dover has written this comprehensive guide to colon and rectal cancers. Learn about the statistics, risk factors, symptoms, types, diagnostic tests and treatments for this disease.
Dover also explains how doctors and pathologists sometimes fail to diagnose colon and rectal cancer or detect it later than it should have been, making it more difficult to treat and worsening the prognosis for those afflicted with the disease.
This essential patient guide is available for FREE. To request your copy, simply fill out the form below or to the right, and we'll send you an instant download.