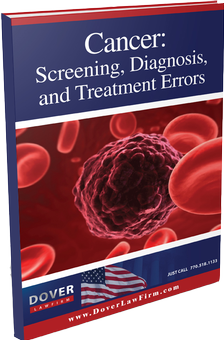 Cancer: Screening, Diagnosis and Treatment Errors
A cancer diagnosis is a life-changing event that affects millions of people every year. Worse yet, doctors and pathologists sometimes make mistakes such as failing to diagnose cancer, misdiagnosing cancer and detecting cancer too late.
In this information-packed, easy-to-follow report, Atlanta Cancer Attorney Jeffrey Dover covers all the basics about cancer, including what it is, the terminology associated with it, the risk factors, screenings, treatments and the common medical errors that occur with cancer diagnoses.
To request your FREE report, simply fill out the form on the right or below, and we'll immediately send you the download.