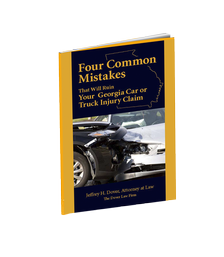 4 Common Mistakes That Will Ruin Your Georgia Car or Truck Claim
ATTENTION

: Learning What NOT To Do After a Car or Truck Accident is as Important as Learning What To Do
If you've been injured or if you've lost a loved one in a Georgia car or truck crash, then you may be suffering, both physically and emotionally, and you may be entitled to damages.
However, insurance companies are going to do everything they can to prevent or limit your recovery. Don't let the insurance company win on a technicality. Instead, learn about the
4 Common Mistakes That Will Ruin Your Georgia Car or Truck Claim.

Learn from other people's mistakes, and learn how to protect your rights.
If your Georgia truck accident or car crash claim is successful, then you may recover damages for past and future medical bills, rehabilitation costs, out-of-pocket expenses, lost income and pain and suffering.
Don't sabotage your own case, and don't let your actions be the reason that you don't recover the damages that you deserve.

Instead, order your
FREE
copy of
4 Common Mistakes that Will Ruin Your Georgia Car or Truck Claim
. This book has been written by the experienced Atlanta accident attorneys of The Dover Law Firm.
We have successfully represented many car and truck accident victims and have witnessed mistakes people have made before hiring an attorney. We want to pass this information and our tips to Georgia accident victims free of charge. The Dover Law Firm maintains offices in Atlanta and Alpharetta, Georgia and is committed to helping people who have been injured.
This book has been written specifically for people involved in Georgia accidents. Please, fill out the information below for your
FREE
copy of our book. We hope that it helps you protect your rights to compensation from your accident injuries.
Don't Wait. Order Your Copy Today.